I call while I am away on business. Doodles catches me up on his day. He shares stories and secrets.
The playground has become a difficult place for Doodles. He feels left out. There are a group of 4 that play together, Doodles being one of those. As the game goes on 2 follow 1 and Doodles feels left out. (
funny how the 1 and Doodles are the best of friends when they are one on one - kids stump me...
)
The playground is a weird place. It is where cliques are formed. Where otherwise friendly people become someone else. Where make-believe happens. And, where bullies thrive. Yeah, the playground is a weird, weird place!
Doodles is not being bullied, he just...I don't know, doesn't assert himself into the situation so his voice is not heard. He pulls away and feels left out.
This causes problems...I can pinpoint the days when this happens. He doesn't know how, but I can. He is not good in social situations anyway, so having a playground disappointment starts a downward spiral. Temper Tantrums during otherwise enjoyable activities such as computer lab, library, or other resource activities that are individual and quiet based.
It disturbs me that all I can do is to ask how his day was and how it went on the playground...that weird, weird playground.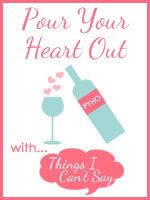 PYHO is 1!! Congrats Shell!